Moving into Your New "Pad"
19 November 2010
No Comment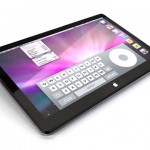 For years, they've been making things smaller – and now, all of the sudden, they pull a "biggening" on us. Home stereos begat boomboxes, which begat Walkmans – which eventually evolved into teeny-tiny iPods. Similarly, desktop computers begat laptops, which turned into netbooks – and eventually, iPhones and other touchscreen smartphones, which owe more to computers than to cellphones.
But instead of taking the next logical step forward and making something even smaller, they decided to chuck miniaturization – and come out with something bigger. Now, the new "in" device is the tablet – not quite a laptop/netbook, more than a cellphone, and with a touchscreen.
The first successful tablet (but not the first ever) was, of course, the iPad; Apple took the computing world by surprise with its improbably successful tablet. For awhile, Apple had the tablet market to itself, but now, others have caught up, and a number of tablets have already come, or are set to come, to market soon.
And the tablet has arrived in Israel. A new service at Bank Hapoalim has "mobile bankers" walking around the bank, helping people with not-too-complicated transactions using iPads. I don't know how many customers these iPad-toting ombudsmen will be helping – in my experience, most people ahead of you on line in the bank are involved in extremely complicated transactions (otherwise the line would move much faster) – but it makes for good ad copy. Although iPads aren't officially available in Israel, Apple's local representative, iDigital will hook you up.
And now there's a new "pad" in town: The Samsung Galaxy Tab, available now through Cellcom. If you're in the market for a tablet, it's worth checking out what to expect with each:
Samsung Galaxy Tab: There are two ways to look at the Galaxy Tab; it's either a big GSM phone or a small tablet (compared to the iPad, at least). The tab has a 7 inch TFT-LCD screen, weighs only 385 grams, and includes 3G and wifi. It  has a 3.2 megapixel rear camera, although it doesn't have a flash or touch to focus – along with a 1.3 megapixel front-facing camera, made for video calls. The 1 ghz Application processor runs Android 2.2 Froyo,plays HD movies, and includes support for Adobe Flash 10.1. It also sports 16 or 32 GB of built in memory (expandable to 326 GB with a SIM card), USB ports, an FM radio, support for just about every digital music format out there, and more. And, of course, it's got that multi-touch screen.
As an Android-based device, the Tab can take advantage of many of the up and coming applications in  the Android Market app store. As Google is a major player in the Android world, the Tab comes pre-installed with a plethora of Google apps (Gmail, Maps. Apps, Docs, etc.) as well as with built in GPS. Samsung claims a battery life of 7 hours for the device. Cellcom has priced the device to compete with the iPhone (36 payments of NIS 99 each with credits for calling/surfing packages, etc.).
Apple iPad: If the Tab is a tablet that wants to be a phone, the iPad is a tablet that would feel comfortable hanging around with the laptops; it has no phone function, and no camera. It also doesn't necessarily come with 3G built in (that's an option), although all models have wifi. The iPad weighs 680 grams (wifi version) or 730 grams (3g/wifi), features a 9.7 inch LED-backlit glossy Multi-touch screen, a 1 ghz Apple A4 processor, and 10 hours of battery time. The 3G version supports GMS/EDGE data surfing.
The iPad comes in three sizes – 16, 32, or 64 gb – and is not expandable. All iPads play HD video, and the apps come from the App Store, with its 200,000 plus apps. The iDigital people do not advertise the price of the iPad, but at  this site, you can order a 16 Gb wifi model for NIS 2,599, all taxes and shipping paid.
It's pretty cool that we actually have a choice in which tablet to buy – assuming, of course, you are even in the market for one. As one who follows the Apple "party line," I have dutifully acquired my quota of Apple devices, including an iPhone and iPad, and the truth is that I find a lot of duplication between the two – ie, it's easier for me to use the iPhone than the iPad. I'm not sure I'd feel differently if I had a Tab – there's only so much room in one's life for these gadgets – but I know many happy owners of both iPads and iPhones who get plenty of use from both.
But if you haven't committed yet, you now have a choice – and it really is a tough choice. The Galaxy Tab has a lot of great features. Two of them stand out to me – the two cameras, and the USB interface. The former gives the Tab its own "Facetime" type capability that will only be available in a future iPad version, while the latter gives you more flexibility to hook your Tab up to a PC and transfer data – perhaps a better system than that of the iPad, which requires you to do everything through iTunes. On the other hand, that rigidity, which shows itself through the entire Apple gadget experience, from the way you download and install apps to which apps you're allowed to have access to, ensures the quality level of applications, and ensures that everything works like its supposed to – something you can't always say about Android devices, at least not yet.
For me, though, it's the size that counts – not of the iPad, which is a fine size for what I use it for (reading ebooks and magazines, and watching videos) – but that of the Tab. If I want to use the Tab as a phone, I won't be able to put it in my pocket (not even the ones with the big pouch!). And if I have to put it in a case or backpack, it'll be a hassle shlepping it out every time it rings or I want to make a call. Of course, I don't have to use the Tab as a phone – but if I just wanted a tablet, the iPad would do fine. Your mileage may vary, as they say, but for now, I'll stick with the  (Apple) quota.
Related articles